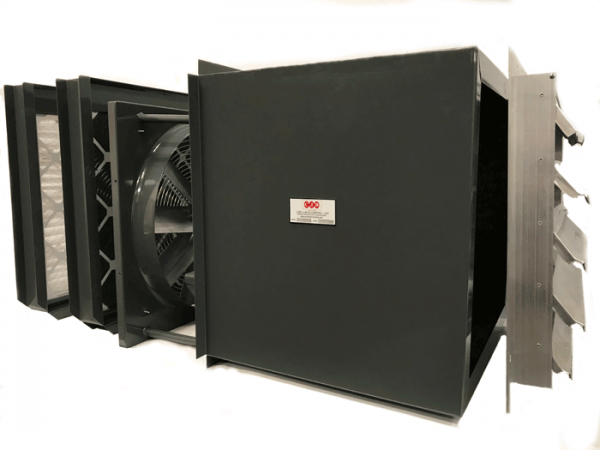 CAF-900-Carbon Paint Booth Wall Exhaust Fans with Merv-8 Pre-Filter (2-Filter Boxes) Explosion Proof
Sizes 12″, 20″ and 42″
– 2-Filter Boxes (Removable)
– Pre-Filter Box (containing High Capacity, Pleated, Merv-8 Rated Pre-Filter) which removes paint and dust. Protects and extends the life of the Secondary Carbon Honeycomb Odor Removal Filter.
– Carbon Filter Box (contains carbon honeycomb filter for Paint Odor and Other Fume odor removal
– Absorbs Foul Odor and Smells.
– Can be used for other processes (other than Paint and Spray Booth applications)
– Fans can be constructed of 304 or 316 Stainless Steel (for corrosive applications)
– Completely SELF-CONTAINED.
Description
Cut Sheets and Drawings
Description
APPLICATION
Paint Booth Wall Exhaust Fans to remove BOTH PAINT AND ODOR from Exhaust Air-stream.
The fan has (2) removable filter boxes. The first filter is a High Capacity Merv-8 Rated, Pleated Filter (Throw-Away Type). The second filter is an Odor Removing Carbon Honeycomb Filter. The Merv-8 rated Pre-Filter Section protect the Carbon Filter by removing the raw paint before it can damage the Carbon Filter. This extends the life of the carbon filter, allowing it to only remove the Paint Smell from the exhaust air-stream.
Absorbent carbon for fume and odor removal. Fully disposable; no refilling necessary.
Filters offer medium-efficiency particulate filtration. Granular activated carbon provides more odor-removal capacity than carbon-impregnated pleated air filters or rolls. Activated Carbon Honeycomb Air Filter. (Replacement Filters available at your local filter supply).
Model #
Size
Capacity
Horsepower
Filter Size
No. Filters
Rough In
Weight

CAF-912-1/2-Carbon

w/Merv-8 Pre-Filter

12″
350 CFM
3450 RPM
1/2
16″X16″X1″
(Both filters)
2
17″X17″
135#

CAF-920-2-Carbon

w/Merv-8 Pre-Filter

20″
4000 CFM
1725 RPM
2
24″X24″X2″
(Both filters)
2
25"X25"
225#

CAF-942-3-Carbon

w/Merv-8 Pre-Filter

42″
8000 CFM
1140 RPM
5
24″X24″X2″
(Both filters)
8
49″X49″
450#
Adjustable Pitch 10-Bladed Cast Aluminum Propellers (Non-Sparking)
Direct Driven
Explosion Proof and Non-Explosion Proof Models.
3-Sizes (12", 20" and 42")
Single Phase or 3-Phase Motors. (3-Phase Only for Size 42").
Exhaust or Supply Configurations
Fan & Shutter Mounting Box (Powder Coated)
Removable Filter Boxes. Filter Boxes Bolt to Fan Assembly.
Fan Guard (OSHA Approved)
Aluminum Automatic Discharge Shutter (Non-Motorized).
High Capacity, Pleated, MERV 8 rated filters meets ASHRAE 52.2-1999
5 times more efficient than fiberglass filters
50% more surface area than standard capacity filters extending the service life by 30% and providing reduced resistance
Filters are made from 100% synthetic media which prevent the fibers from shedding
UL class 2
Absorbent carbon filter(s) for fume and odor removal. Fully disposable; no refilling necessary
Filter offers medium-efficiency particulate filtration. Granular activated carbon provides more odor-removal capacity than carbon-impregnated pleated air filters or rolls.
High Quality – Industrial Grade (Made in USA