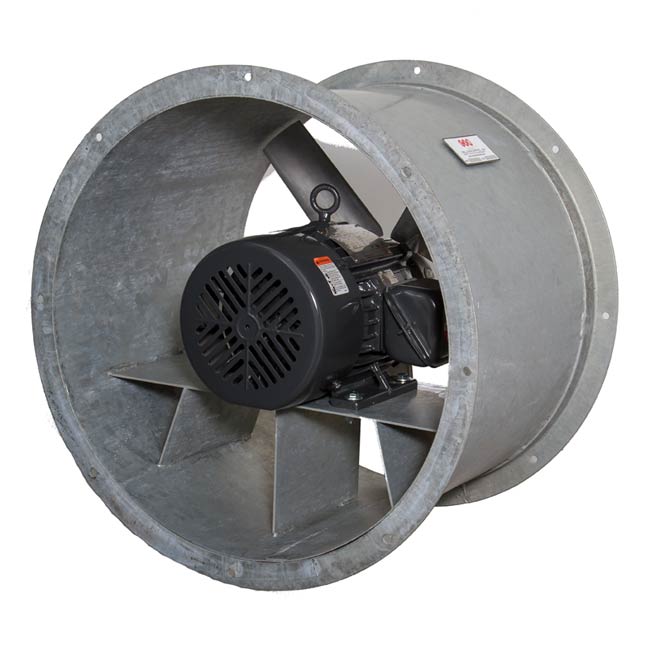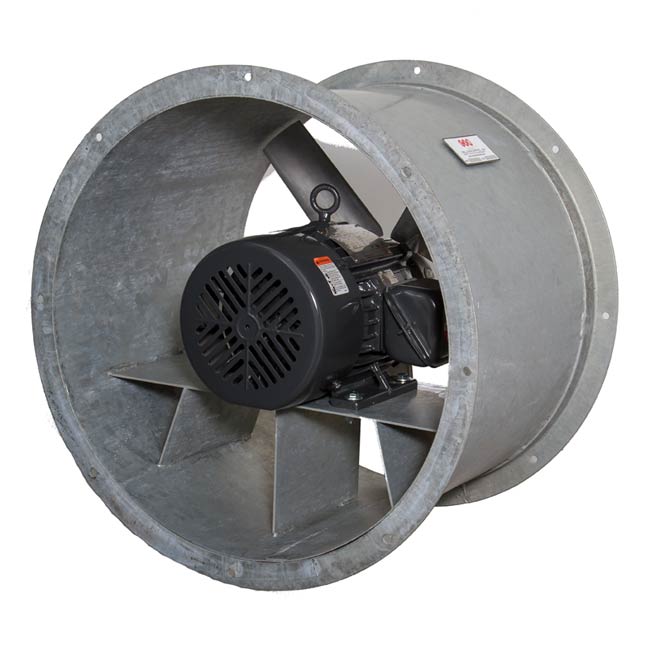 DF-Series – Hot Dipped Galvanized Steel Tube Axial Duct Fans – Direct Drive
Sizes 12″ to 60″
– These HOT DIPPED GALVANIZED STEEL Direct Drive Tube axial Fans are recommended for duct applications on OCEAN GOING SHIPS, OFF-SHORE OIL RIGS, SALT WATER LOCATIONS, and in Mills, Mines, Foundries, Factories, or wherever fumes, dust, smoke or steam must be removed
– Propellers are non-sparking Cast Aluminum
– Explosion Proof Construction available
– Offer great protection in salty sea-air environments (as found on Ships and Ocean Vessels).
– SMALLER UNITS UP TO SIZE 30" USUALLY IN STOCK.
Description
Cut Sheets & Drawings
Description
APPLICATION
Hot Dipped Galvanized Steel Duct Fans are used in wet environments usually associated with Salt Water and Marine applications. Used on Ships and Ocean Going Vessels.
Designed for use in maximum 104°F environments to economically remove fumes, dust or smoke. Suitable for use in the following applications:
air make-up systems where motor must be located in the airstream
hazardous locations when equipped with explosion proof motor
harsh, wet environments when equipped with mill and chemical duty motors. Epoxy Coated or Stainless Steel Washdown Motors also available.
FEATURES AND BENEFITS
Standard propellers are non-sparking cast aluminum.
Fan housing is all welded, heavy gauge hot dipped galvanized steel construction.
Motors are high quality industrial grade available in single or three phase – totally enclosed, explosion proof, or washdown duty. Mill and Chemical Duty or Stainless Steel Motors also available.
OPTIONAL ACCESSORIES
Companion flanges
Horizontal support legs
Horizontal or vertical support brackets
Inlet or outlet guards – OSHA compliant
Excellent "exterior" coating that provides total protection across the entire surface of the fan housing as a result of the "dipping" process.  The galvanizing, zinc and iron interact and form intermetallic layers, which are harder than steel.  Hot dipped galvanized finish can be painted or powder coated which adds another layer protection. This finish will provide decades of excellent protection in harsh, exterior environments.  Key characteristics are as follows:
Excellent abrasion resistance

Cathodic protection stops rust corrosion from spreading if surface is scratched

The finish will appear chalky over time, but does not affect performance

Highly desirable in salty air environments

Can be washed down easily