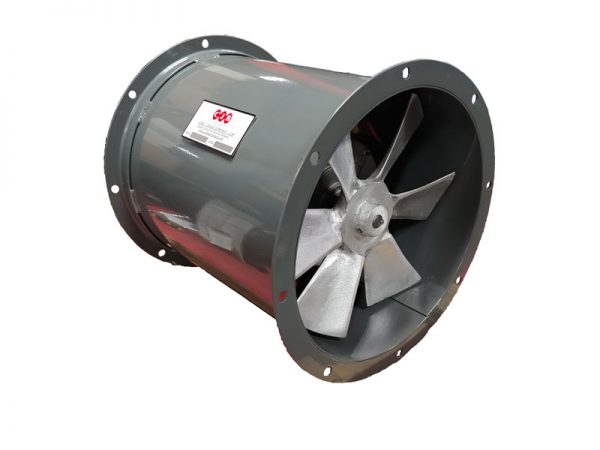 DF-Series – Tube Axial Duct Fans – Direct Drive
Sizes 12″ to 60″
– These Direct Drive Tube axial Fans are recommended for duct applications in Mills, Mines, Foundries, Factories, or wherever fumes, dust, smoke or steam must be removed
– Propellers are non-sparking Cast Aluminum
– Explosion Proof Construction available
Description
Cut Sheets and Drawings
Description
APPLICATION
Designed for use in dry maximum 104°F environments to economically remove fumes, dust or smoke. Suitable for use in the following applications:
air make-up systems where motor must be located in the airstream
hazardous locations when equipped with explosion proof motor
harsh, dry environments when equipped with mill and chemical duty motors and special coating
FEATURES AND BENEFITS
Standard propellers are non-sparking cast aluminum.
Fan housing is all welded, heavy gauge steel construction.
Motors are high quality industrial grade available in single or three phase – totally enclosed or explosion proof.
OPTIONAL ACCESSORIES
Companion flanges
Horizontal support legs
Horizontal or vertical support brackets
Inlet or outlet guards – OSHA compliant
Inspection door
Epoxy or urethane coatings