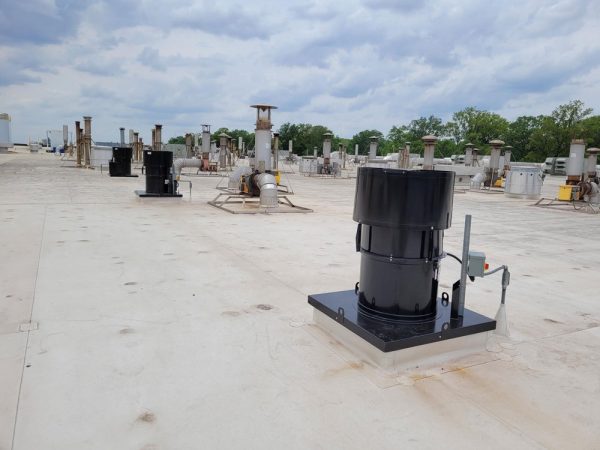 Model BRV-CS – Epoxy Powder Coated, Corrosion Resistant, Belt Driven Upblast Roof Exhaust Fans
Sizes 18″ to 60″
– Corrosion Resistant Epoxy Powder Coated – Baked on Epoxy
– Black Color Fan
Description
Cut Sheets and Drawings
Description
-Epoxy Powder Coated. Less expensive than Fiberglass. Hence Corrosion Resistant Roof Exhaust Fans Epoxy Powder Coated Mild Steel. Also the economical choice for corrosion protection. (Degree of Corrosion Protection varies. Based upon material in airstream). Twice baked on Epoxy Coating. Oil and Gas Industry, Petro Chemical, Sewerage Treatment facilities requires blowers with corrosion protection. Also Metal Processing, Chemical, Pharmaceutical operations.
Black Color Fan. Interpon 100 is an epoxy based powder coating that exhibits excellent corrosion protection and chemical resistance. Corrosion Resistant Roof Exhaust Fans coated with epoxy are well suited for environments in which caustic substances are present
APPLICATION FOR EPOXY POWDER COATED STEEL ROOF EXHAUST FANS:
Designed for use in high moisture or contaminated airstreams requiring the motor and drive components to be located outside the airstream. Can be adapted to facilitate ductwork connection to fan inlet.
FEATURES AND BENEFITS
Hence utilizes Model BCS tube axial duct fan with cast aluminum spark-resistant propeller standard.
Black Color Fan. Interpon 100 Epoxy based powder coated steel
And heavy gauge curb cap continuously welded to prevent water penetration.
Also butterfly damper section mill galvanized construction. Damper blades open when fan energized. Close watertight when unit off. Dampers rotate in nylon bearings – stainless steel axle.
Hence butterfly damper section removable as a complete unit for access to propeller.
Also combination weather cover/belt guard.
And motor and drive components located outside the airstream.
Also suitable for maximum temperature up to 225°F.
And high temperature package available for a maximum 375°F which includes fabricated steel propeller above 275°F airstreams.
Also available in 304 or 316 stainless steel construction.
OPTIONAL ACCESSORIES
Weatherproof non-fused disconnect switches.
Insulated roof curbs for flat or pitched roofs.